Bolwarra puppies
Sub-links for this page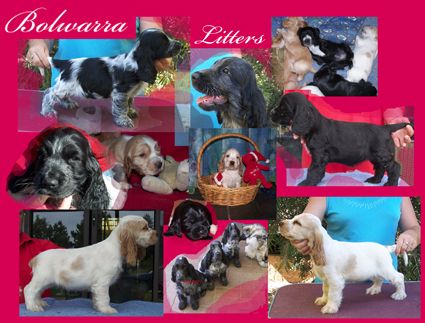 Questions to ask before you consider buying a puppy
• Take full responsibility for this dog and all its needs for the next 8 - 12 years? This is NOT a task that can be left to children!
• Invest the considerable time, money and patience it takes to train the dog to be a good companion? (This does not happen by itself!!!!)
• Always keep the dog safe; no running loose, make sure you have secure fences
• Make sure the dog gets enough attention and exercise? Cockers need to spend time with the family and need and love attention.
• Live with grooming a couple of hours a week or getting your dog clipped at the groomers.
• Spend the money it takes to provide proper veterinary care including but certainly not limited to: vaccines, heartworm testing and preventative, spaying or neutering and annual check ups?
• Become educated about the proper care of the breed, correct training methods and how to groom? (There are many good books available, invest the time to read a few.)
• Keep the breeder informed and up to date on the dogs accomplishments and problems?
• Take your questions to the breeder or other appropriate professional before they become problems that are out of hand?
• Have the patience to accept (and enjoy) the trials of puppy hood, which can last for two to three years, and each stage afterward?
• Continue to accept responsibility for the dog despite inevitable life changes such as new babies, kids going off to school, moving or returning to work?
• Resist impulse buying, instead have the patience to make a responsible choice?
• If you answered yes to ALL of the above you are ready to start contacting breeders. Start early because most responsible breeders have a waiting list ranging from a few of months to a couple of years. Remember, the right puppy or adult dog IS worth waiting for!!
We have pups available to loving homes from time to time our litters are carefully planned as we are looking for a pup to add to our show team from every litter.
We are after loving homes for our pets and will give advice and support to all our new owners.
If your circumstances change we are always willing to take the pup/ dog back and we encourage this, we want our dogs back if you can't keep it anymore. We are here for the life of our dogs.
We can't guarantee all health problems with your pup but we try to breed pups disease free. We are testing for known diseases.
By the time you pick up your puppy, it will have been wormed, vaccinated, vet checked and micro chipped. As well as leaving with your new puppy, you will get a folder which includes his/her vaccination certificate, breed leaflets, training information and an "Proplan" Total Care Guide. As well as over 2kgs of "Proplan" food for the puppy. (I use AND recommend Proplan). A Diet Sheet.
When raising puppies it is hard to set rules that will apply to every puppy as they are all individuals and a rule that applies to one may not apply to another. We have over 35 years experience with cocker spaniels and pass on this advice to new owners. It is important to remember to use your common sense and never to be frightened to contact your breeder if you have any queries.
We are breeding a few litters this year look at my facebook page or email me with an enquiry to find out what we have available.
My latest litter has black boys and blue roan boys and girls in it.
Contact Details
Gabor & Megan Markotany
Country, NSW, Australia
Phone : 0417 243 797
Email :
[email protected]